French Phonetics Course in Paris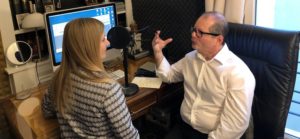 "Teach me half the gladness 
That thy brain must know,
Such harmonious madness
From my lips would flow 
The world should listen then, as I am listening now!"
 Percy Bysshe Shelley
My approach to teaching French phonetics
Phonetics is a science on its own and thus a specialty. The unique french phonetics method which I have created for foreign students stems from my passion for linguistics, music and teaching French. Its aim is to enable students to speak French without any accent at all (accent reduction). At its origin, I designed a phonetic alphabet of vowels for morphological use. In contrast to the supposedly universal nature of the IPA (International Phonetics Alphabet), the symbols I have created have been especially drawn to represent the shape of the face and mouth for each French vowel, and thus physically guide pupils in their pronunciation of French. Some of my students have complimented my approach as being scientific. It is not intended to be especially so, but at least intended to be well structured, logical and educational.
As a phonetics specialist, my work primarily consists of mechanical and artistic training of the voice and ear. I sometimes feel like a musical instrument maker - I show my students how to place the mouth (lips and tongue), cheeks and chin in order to produce an accurate sound which is not yet recognised by their own ear. This covers all the vowels but other sounds too. For example, the "v" and "z" in French are not the same as in English. For Chinese students, several French consonants present difficulties. I also teach how to pronounce an excellent French "r" without any difficulty.
The phonetics lessons also gain efficiency from integrating my understanding of each pupil's native language. I use on a daily basis my knowledge of English and German to illustrate differences with the French language. The majority of my pupils are English speakers but every year I also train German, Italians eastern Europeans and Asian students. Through time and experience, I have become perfectly aware of the linguistic needs of each student.
Some of you will have already noticed that French is certainly not a phonetic language, but rather an etymological language. It is easy to identify significant differences between how a word is written and how it is pronounced. That is why, as exists for the French system of spelling and gender agreements ("l'orthographe"), I have created a number of basic fundamental rules giving effective structure to the French phonetic system and thus enable foreigners to pronounce with confidence and accuracy virtually every single French word.
My phonetics lessons follow a pre-defined structure. There is a certain amount of sequencing in my program. For example, the French sounds "ou" and "on" require students to have mastered the closed "o" sound which serves as the base for these.
That said, the phonetics lessons are not limited to acquiring new "phonemes" (basic sound blocks). I also teach how to speak correct French but also real-life French by explaining the system of liaisons and all the contractions of words that French speakers continually use.
Having a very good ear does not take away the need to follow lessons if the aim is to improve pronunciation. However, a good ear will enable more rapid progress.
Teaching phonetics is my specialty and thanks to my experience, I can help students to pronounce phonemes (sounds) which they previously thought were impossible to express.
The motivation for studying phonetics can be found in aesthetic reasons, for one's personal image or to show an interest in people and its culture. Above all, pronunciation lessons enable the acquisition of the same sounds system and codes as French people, which not only removes obstacles to understanding but also creates the same learning environment to progress as with one's native language.
Below are recordings of 3 students who have worked assiduously on their french accent reduction and intonation:
Maria, a young Ukrainian journalist provides us with an example of the level that can be reached after several months of a successful course.

Practicing French phonetics
The reading session is the continuation and direct application of the phonetics lessons. It is a valuable opportunity for the teacher to check and correct the student's pronunciation. Newspaper articles, poems, songs, or excerpts from novels are used.
During this part of the lesson, I guide the student as necessary so that he or she pronounces each word perfectly. Thanks to this exercise it is possible to become aware of one's pronunciation mistakes and progressively improve one's accent. The awareness of the students pronunciation and the contrast of their pronunciation with the correct one are important elements of my teaching.
Mastering french accent
The success of such training results from mastering both pronunciation and spelling rules. After several phonetics lessons a student should be able to read a text with a very good to excellent pronunciation despite the fact that French is not a phonetic language.
Because all individuals (including French people!) possess the same sound producing organs, it is my deep conviction, and I demonstrate this every day, that it is perfectly possible to speak French with a correct pronunciation after taking phonetics lessons.
Find more information about French phonetics, accent reduction and language in general on my blog.